Do you want more movement in your life?
Do you want to feel more free, confident and connected to your body?
Do you love music and love to dance for yourself?


Join the 7-Day Free Movement Challenge


A free week-long challenge designed to add more movement back into your life. Open to anyone!
No tutorials, no counts of 8, no choreography whatsoever.
Starts May 3rd
Right now a lot of us are stuck at home. We spend all day sitting at our desks or slumped on our couch. We can't go to the gym, our yoga mats just sit there collecting dust, and it isn't warm enough to go for long neighbourhood walks just yet.
We need more movement in our day-to-day lives. Movement and expression are vital for our physical and mental health, but it's so easy to make excuses to not do it. Skip a workout, watch another show, sleep in, etc.
I've designed this super simple challenge to add movement back into your lives.
"Thanks to your classes I have the confidence that I never thought I'd have, it's like I'm a completely different person."
- Giselle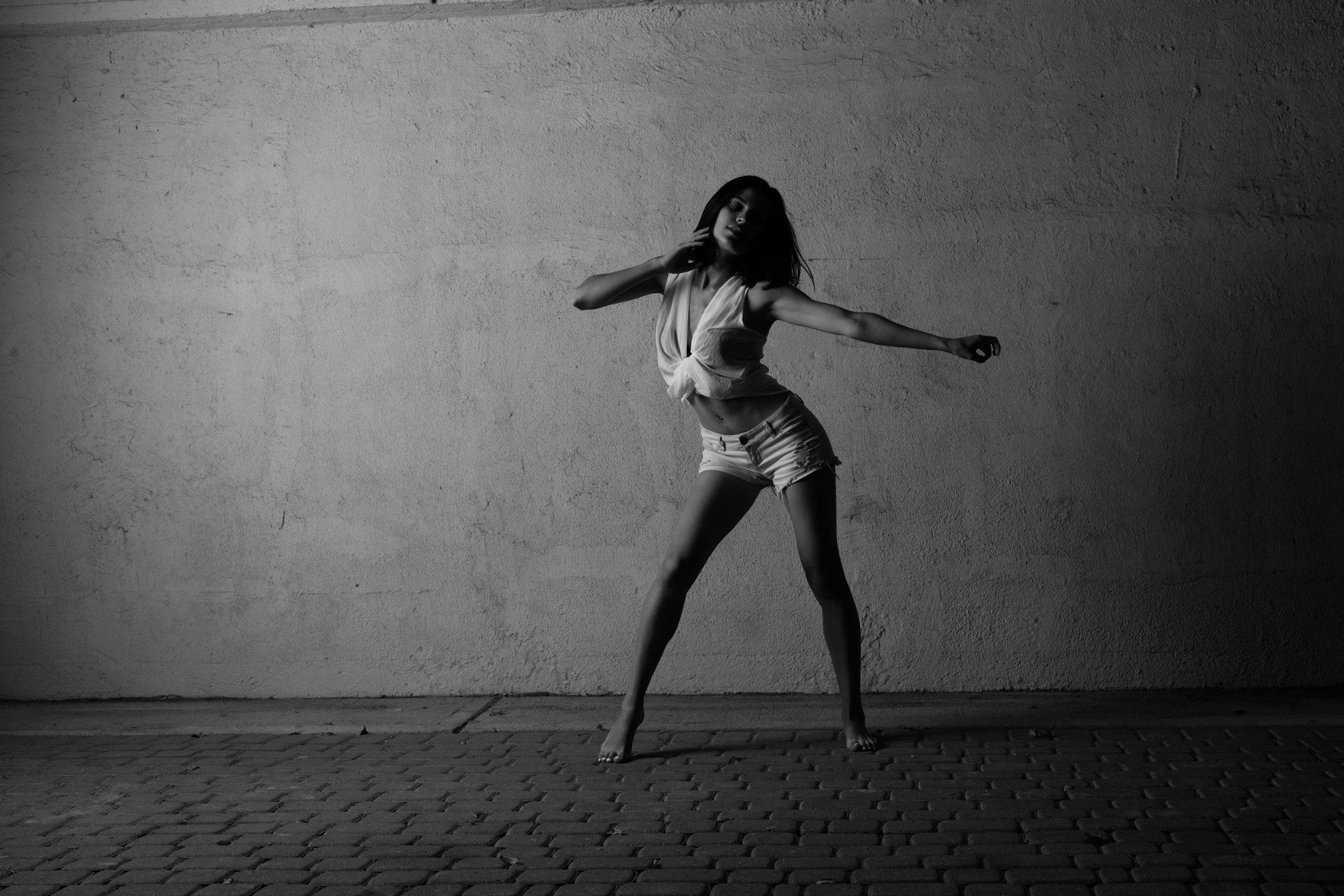 Here's how it works!
You'll receive an email every morning at 7am EST letting you know that the next day of the challenge is ready for you.
To start off there will be a short little video explaining the theme of the day (we tackle a range of topics from self-love and confidence to freedom and emotional release).
Then I've linked a custom playlist that I curated specifically for the topic of the day. Around 20 mins of music for you to move your body to.
After you are done dancing, I've added some journal prompts so that you can start to go inward and reflect on the day's theme.
You will also gain access to a private Facebook group where we can all interact and virtually hang out!
There are no live check-ins. There is no homework. You do not need to post this on your social media. It is a practice just for you to enjoy!
So vibe out, break it down, twist and shout, shake your body down to the ground, go off, hit the floor, move your body and get down tonight.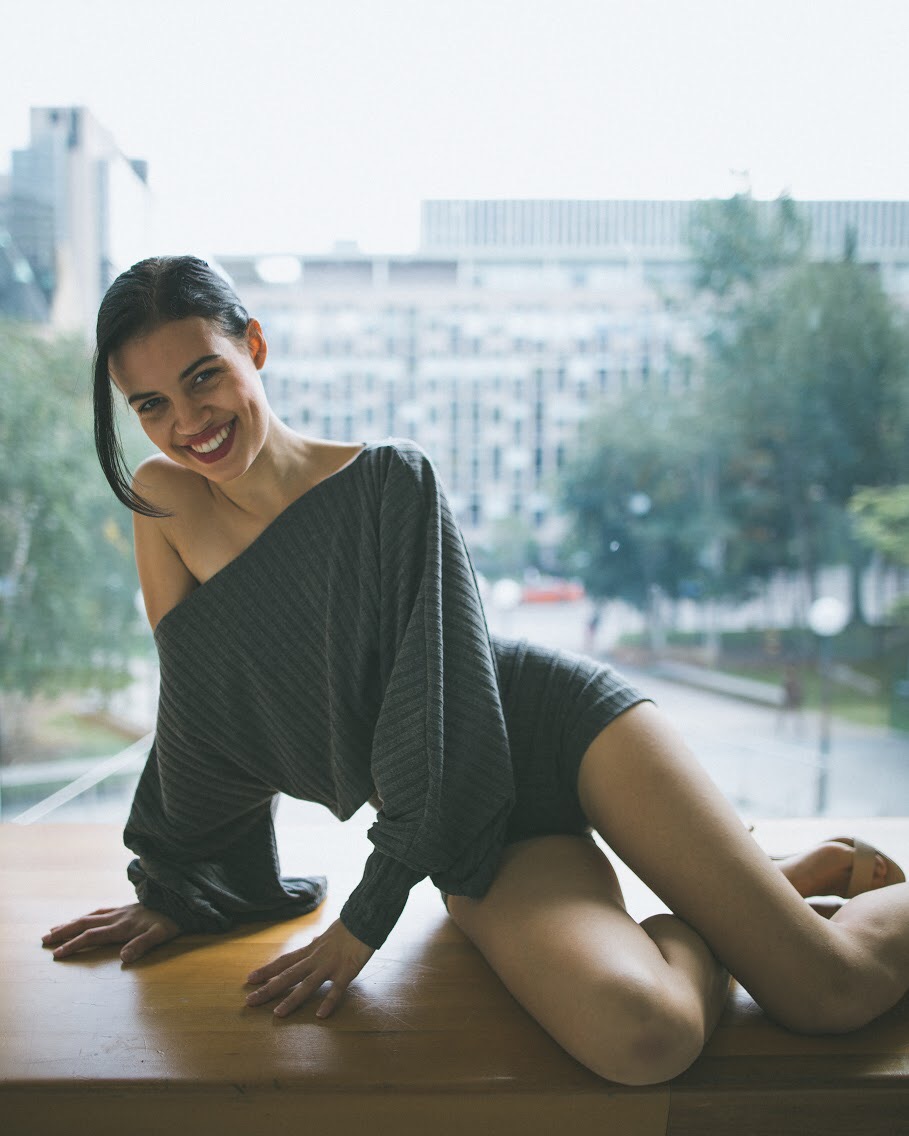 Hi, I'm Shaka Lee
And I believe all humans are dancers (no matter what you've been told). I want to bring free movement and dance into everyone's lives and make it more accessible for all.
Movement is health and dance is expression. Two key things for a happy and healthy life.
I teach online heels dance classes to women from all walks of life and I love watching them feel more comfortable in their bodies and confident in their femininity.
I've designed this 7-Day Challenge to fit into everyone's lives, helping them add movement back into their days.
FAQ
Q. Do I have to do it in 7 days?
A. You will have 14 days to complete the challenge, so no worries if you miss a day.
Q. What if I don't have time to do it in the morning?
A. By all means make it a juicy evening practice or something that you do before you go to bed. I guarantee you will definitely sleep better because of it.
Q. Is this challenge just for women?
A. Not at all. Anyone can do this challenge for themselves. I will say that there are a few more feminine-identifying references around day 5 + 6, but if you do identify as a man, you can challenge yourself to lean more into your feminine side (which is never a bad thing).
Q. Do I have to film myself or put this on social media?
A. Absolutely not. This practice is just for you. If you do feel like sharing it with your following that's amazing. Please tag @dancewithshakalee and #freemovementchallenge. But it's totally up to you. 
Q. What if I can't get away from my family/roommate/significant other/etc?
A. If you can't make time to do this practice on your own, find a way to include them in it! It could be a great time to bond with the ones you are close with. Set up some boundaries like neither of you are allowed to judge the other's movements or emotions, and then if you can make time to do your journal prompts separately that would be best. 
Testimonials from my Online Heels Dance Course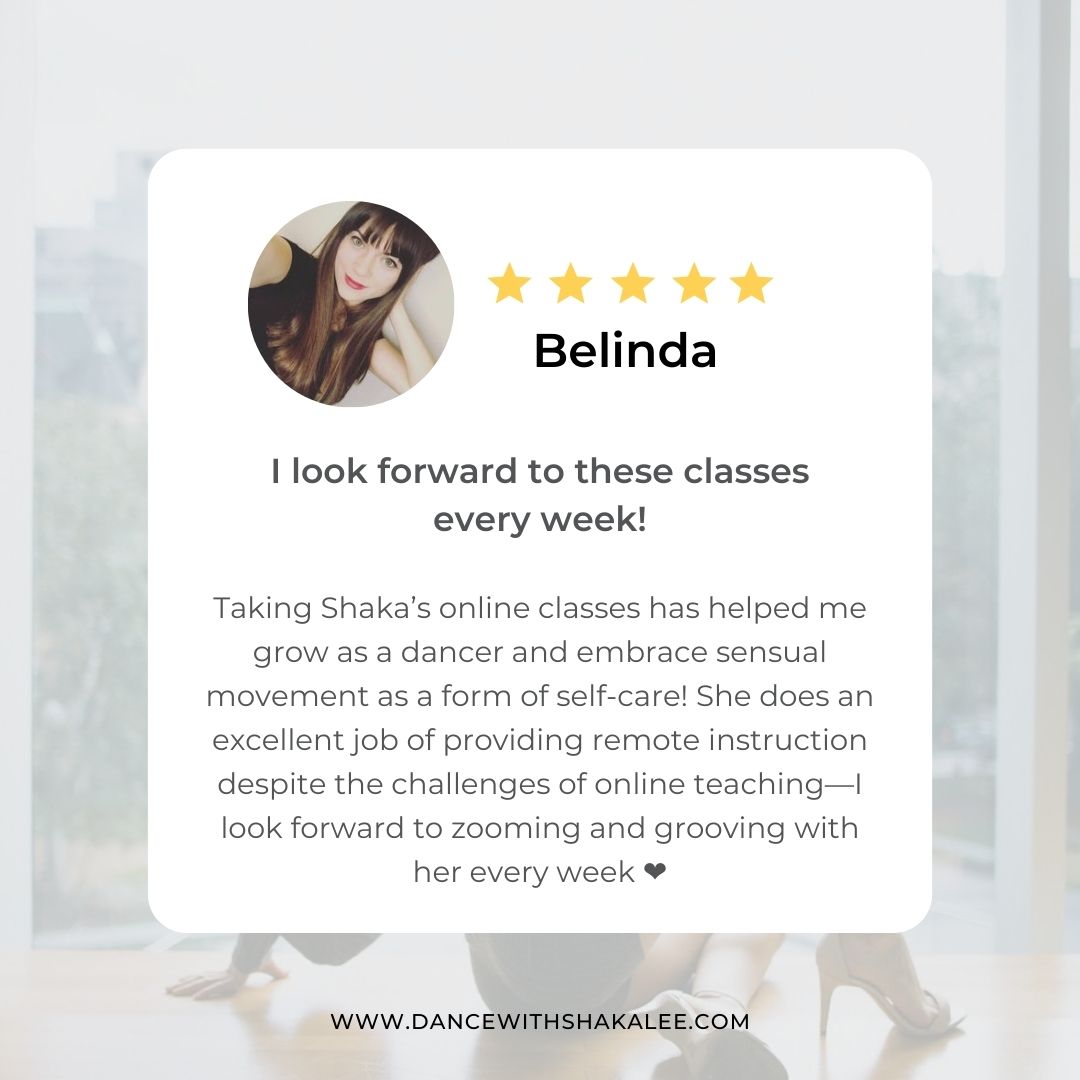 Belinda logs on weekly from Edmonton and has been taking my online heels classes since the summer of 2020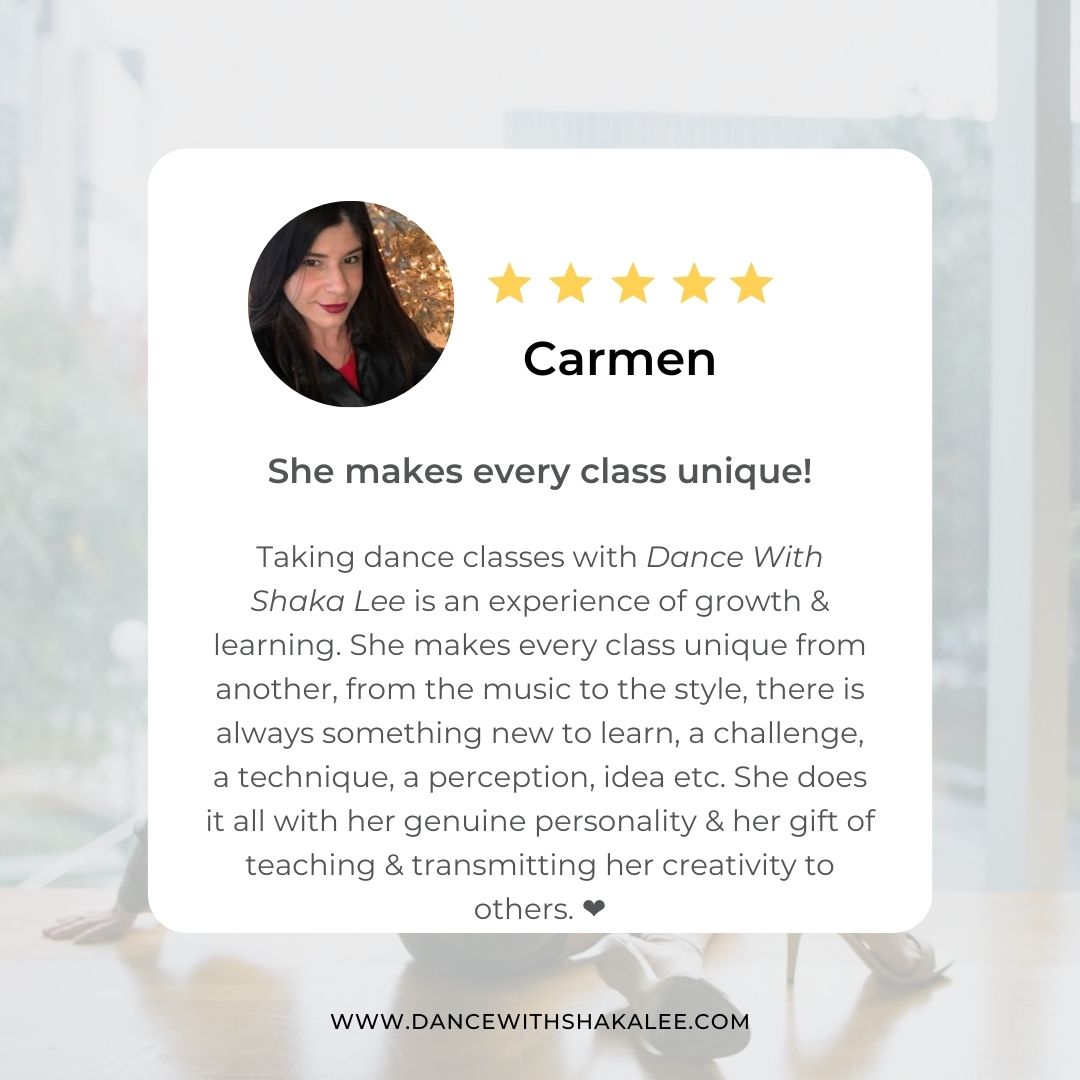 Carmen is a working mother who loves to take my online heels classes and do so weekly all the way from Miami.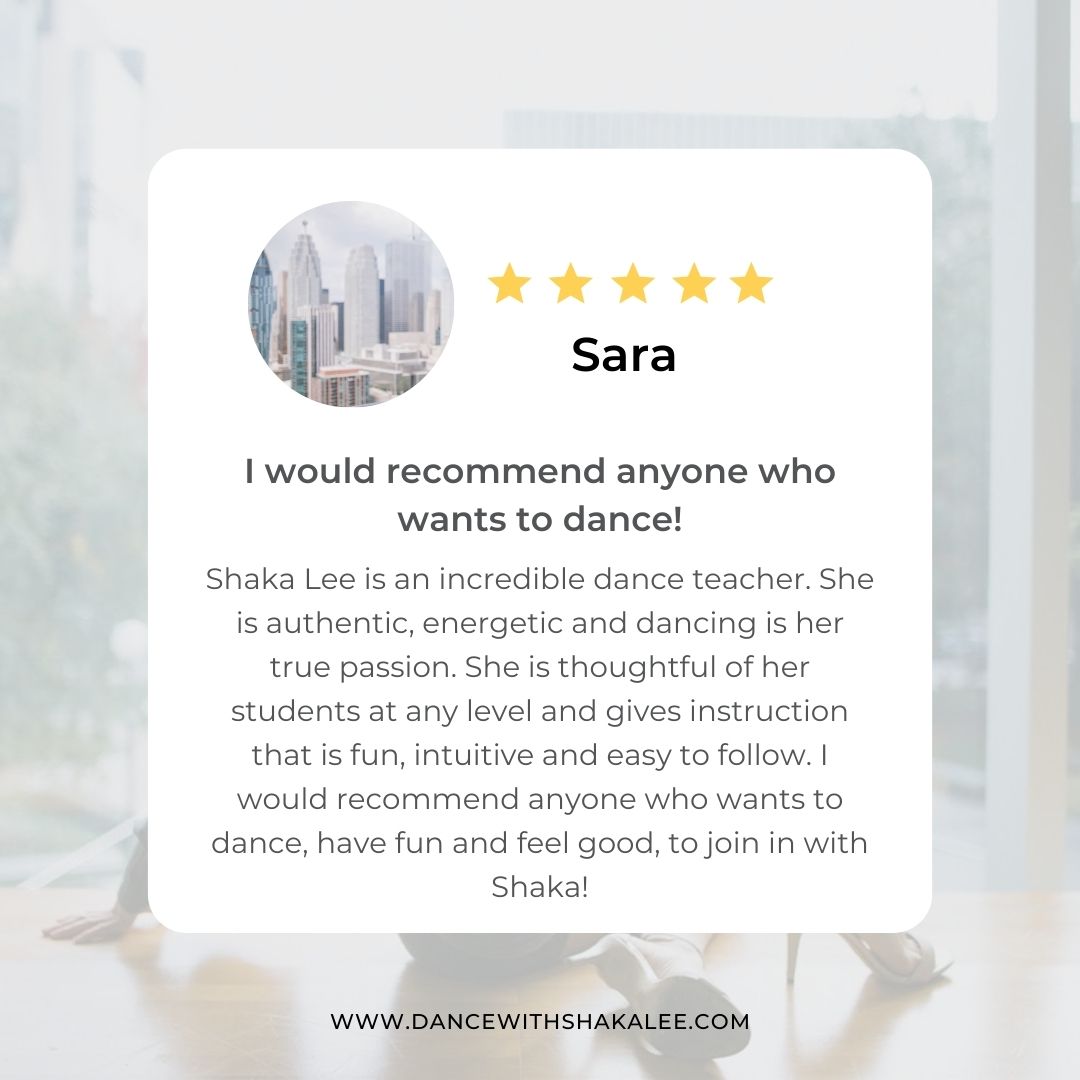 Sara is a yoga teacher and joined one of my online heels courses and fell in love with the community.
Check your inbox to confirm your subscription